Máš problém být upřímná k druhým? Nebo dokonce sama k sobě? Zkus otevřít svou krční čakru skrze jógu. Níže se dočteš, co způsobuje knedlík v krku a nemožnost se vyjádřit. Které jógové pozice jsou vhodné na otevření krční oblasti a jak o sebe můžeš pečovat mimo podložku.
JAK POZNÁŠ, ŽE JE ZAPOTŘEBÍ ZAPRACOVAT NA KRČNÍ ČAKŘE?
Višuddha je usazená v krku, ale ovlivňuje i uši, tedy to co slyšíš. Veškeré problémy s krkem či ušima, jsou projevem nadměrné nebo nedostatečné energie v této oblasti. A to se bavíme o fyzické bolesti, ale i o koktání, ráčkování, šišlání. Může tě obtěžovat pískání v uších nebo nedoslýchavost.
Nerovnováha může vzniknout už v dětství, pokud se dítě cítí nevyslyšeně nebo pokud je obklopeno velkým hlukem, který v něm budí strach (časté hádky rodičů nebo křičení přímo na dítě). Později v životě ovlivňuje Višuddhu především lhaní, potlačování toho, co toužíš říct, nebo vědomé neslyšení věcí, které by nám mohly ublížit.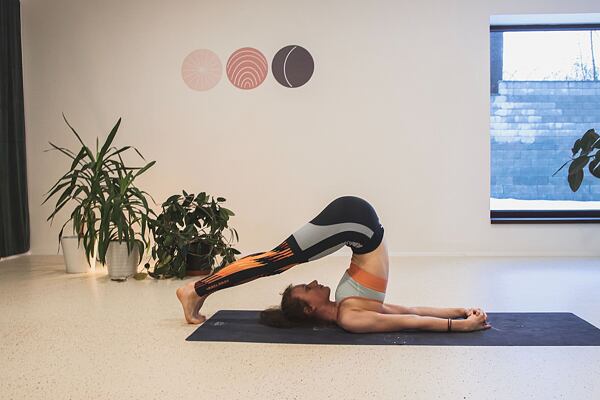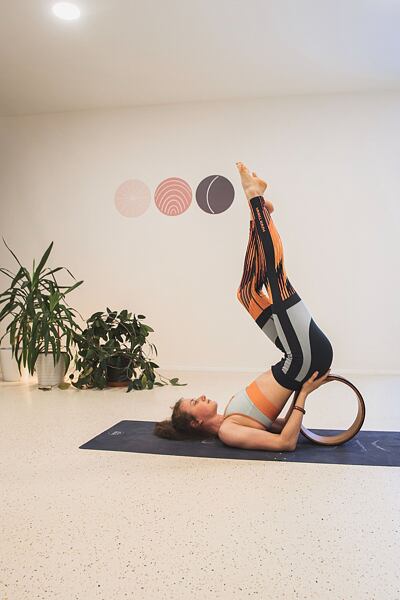 PÁTÁ ČAKRA USILUJE O SEBEVYJÁDŘENÍ A UPŘÍMNOSTI
Veškeré naše vyjadřování formuje naše tělo i duši. Čím "čistší" (tzn. upřímnější) jsi k ostatním, ale i sama k sobě, tím zdravější prostředí vytváříš. A to se bavíme o partnerských vztazích, rodině, přátelích, vztahu sama k sobě.
Nikdo ale netvrdí, že být upřímná je jednoduché. Naopak vyžaduje to velkou odvahu. Jóga si pravdivosti cení natolik, že ji označuje za jeden z kroků k osvícení.
Někdy je dokonce nevhodné, abys vyjádřila svůj názor nahlas (např. před šéfem, který tě vytáčí). Takže v sobě zadržuješ nahromaděné emoce, které dříve či později vyplují na povrch. Je tedy na tobě, abys je pravidelně ventilovala - ať už tím, že se vykřičíš v autě, nebo si vše zapíšeš do deníku (určitě je i něco mezi, je jen na tobě, co zrovna ty potřebuješ). Journaling (psaní do deníku) není jen pro malé holčičky. Zapisování zážitků, ať už negativních nebo pozitivních, je způsob, jak se můžeš posunout ve svém životě. Při samotném zapisování si totiž často uvědomíš, jestli je tento stav něco, co chceš mít ve svém životě, nebo je to spíš to, čeho se chceš zbavit. Jen uvědomění ti pomůže udělat krok tím správným směrem.
Elementem krčního centra je zvuk, ale nevyjadřuješ se pouze hlasem. Svůj názor dáváš najevo i svým tělem. Jsou tací, pro které je způsob komunikace hudba, tanec nebo malování.
A ani samotný rozhovor nemusí probíhat pouze pomocí slov. To, jak nasloucháš, je mnohdy silnější než samotná slova. Říká se, že naslouchání je 90 % veškeré komunikace. Kdy jsi naposledy opravdu vědomě vyslechla problémy své/ho partnerky/a nebo kamarádky?
JAK MŮŽEME HARMONIZOVAT KRČNÍ ČAKRU POMOCÍ JÓGY?
Práce se zvukem silně ovlivňuje krční čakru. Jóga na to má tzv. bídža neboli semenné mantry. Mantra je pomůcka pro mysl, aby se lépe soustředila. Někdy se zpívají celá slova a věty, ale pro začátek bych doporučila jednoduché slabiky.
S mantrou ÓM se setkal snad každý jogín. Ať už na začátku nebo na konci lekce se třikrát zazpívá a jde se dál.
Ty si ale z "chantování" (opakování manter) můžeš udělat celou praxi. Opakovat mantry můžeš potichu v hlavě nebo je můžeš nahlas zpívat. Ze začátku stačí mantru zopakovat jen párkrát, postupně můžeš přidávat, až jednou to bude 108krát. Proč 108 krát? Číslo 108 v józe symbolizuje jednotu veškeré existence. Aby ses v tom neztratila, můžeš používat meditační MALU, která má přesně 108 korálků, takže jen stačí s každým opakováním pootočit s jedním korálkem a posunout se na další.
Pokud ti nevyhovuje mantra ÓM, vyzkoušej HAM - semennou mantrou pro krční čakru.
Do své fyzické praxe zařaď práci s rameny a krkem. Tradiční sekvence svíčka (salamba sirsasana), pluh (halasana) a ryba (matsyasana) má silný vliv na pátou čakru. (! pozn.: po pluhu si dopřej twist nebo šavásánu než přejdeš do ryby). Ale i jednoduché protahování a rozhýbávání krku v pohodlném sedu (sukhasana) prospívá Višudze.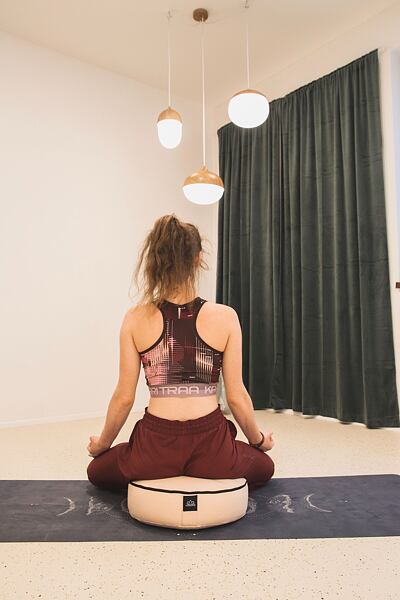 A JAK PEČOVAT O KRK A UŠI MIMO PODLOŽKU?
Vykroč ze své komfortní zóny a vyzkoušej, co běžně neděláš. Jdi se projít do přírody a zaposlouchej se do zvuků okolo sebe (tím myslím bez sluchátek). Postav se sama za sebe a řekni svůj názor, přesto že se ti budou podlamovat kolena a pocítíš narůstající knedlík v krku.
Zkus dokončit všechny konverzace, které zůstaly otevřené. Někdy to nepůjde osobně, tak si i na tohle otevřít svůj deník a napiš si do něj všechno, co bys chtěla říct této osobě.
Zaměř se na hledání pravdy všude, kde to jde. Ve světě filtrů a photo shopů se v tom lehce můžeš ztratit, ale nevěš hlavu. K sociálním médiím přistupuj s odstupem (kritické myšlení tu je rozhodně na místě) a v reálném světě se nech vést svojí intuicí, ten hlásek, co ti našeptává, co je pravda a co je lež.
Dopřej si masáž. Ať už se namasíruješ sama nebo se necháš namasírovat někým jiným. Věř, že tvůj krk to ocení.
ZAZPÍVEJ SI!
To je asi nejlehčí praxe pro 5. čakru. Jednoduše si pusť svoji oblíbenou písničku.
Nech se rozhýbat tóny a z plných plic zpívej (ne)známá slova. Uvidíš jak se ti uleví, možná si tím zlepšíš celý den.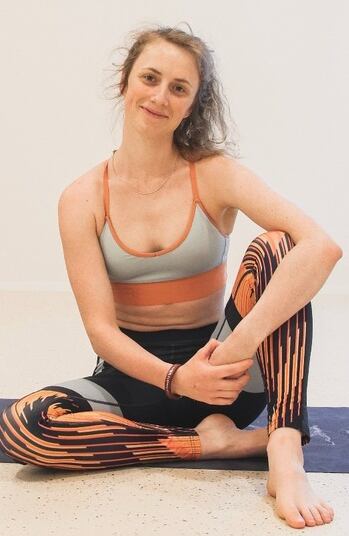 AHOJ JOGÍNI!
Jmenuji se Sára a pokud se ti líbí mé články, můžeš mě sledovat i na Instagramu.
S jógou jsem se seznámila už v dětství, věrně mě provázela celým dospíváním jako kompenzační cvičení. Až jsem si uvědomila, že je to mnohem víc než protahování a cool pozice. Propadla jsem jí natolik, že hned, jak to šlo, jsem se sama stala lektorkou. Neskutečně mě baví ta pestrost jógy, to jak mě učí pokoře, hlavně když si myslím, že už něco konečně vím, ale ona mi tím jen odhalí to, kolik toho ještě ani zdaleka nevím. To co mě na józe nejvíce přitahuje jsou ČAKRY, kterými je inspirovaná většina mých lekcí a o kterých s radosti píšu na blog Yogastore. Pokud máš zájem, ráda tě uvítám i na svých lekcích, více info najdeš zde.
S láskou
Sára Jislová
Autor: Sára Jislová (@sara_jislova)
Zdroje:
CHOQUETTE, Sonia. The Throat Chakra: More Than Just About Speaking Your Truth | Chakra Tips. In: YouTube [online]. [cit. 2022-07-26]. Dostupné z: https://www.youtube.com/watch?v=WSkY0LsdE50&ab_channel=SoniaChoquette
JUDITH, Anodea. Čakry pro každého: Sedm klíčů k probuzení a uzdravení energetického těla. Omega, 2021. ISBN 978-80-7390-651-1.