Hledáš harmonii ve vztazích i sama se sebou? Zkus otevřít své srdce světu skrze jógu. Níže se dočteš, co může způsobit bolesti horních zad a ramenou. Které jógové pozice jsou vhodné na otevření hrudníku a jak o sebe můžeš pečovat mimo podložku.
JAK POZNÁŠ, ŽE JE ZAPOTŘEBÍ ZAPRACOVAT NA SRDEČNÍ ČAKŘE?
Anaháta sídlí v oblasti našeho srdce a hrudníku, ovlivňuje horní záda a ramena. Všechny problémy které se projevují na fyzické úrovni právě v těchto oblastech mohou být nepřímo způsobeny nedostatkem nebo přebytkem energie v srdečním centru. Takové vychýlení od rovnovážného stavu může být způsobeno opuštěním, emočním zneužíváním nebo zahanbováním v dětství. V dospělosti se mohou problémy objevit v důsledku neprolitého smutku. Pokud se takové problémy nezpracují, neovlivňuje to pouze tělo, ale i naši psychiku - člověk má tendence k depresi, izolaci a strachu z mezilidských vztahů. Nebo si to naopak chce kompenzovat a stane se velmi fixovaným na projevu lásky od druhých lidí.
Ať už se to u tebe projevuje jakkoli, je zapotřebí s tím něco začít dělat.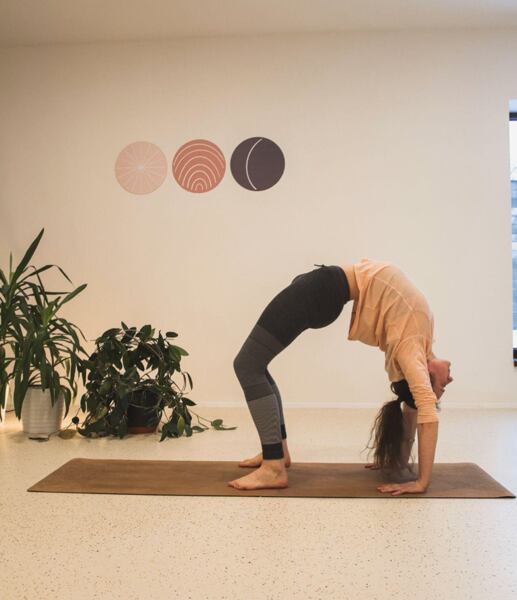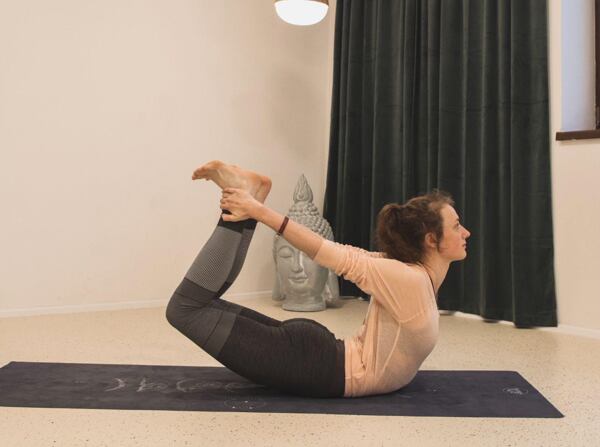 NAŠÍM CÍLEM JE ROVNOVÁHA
Čtvrtá čakra se nachází přímo uprostřed čakrového systému.
Pod ní jsou 3 spodní, těžší čakry (země, voda, oheň) a nad ní jsou 3 horní, lehčí čakry (zvuk, vize, myšlenka). I samotný symbol reflektuje její umístění a princip harmonie.
JAK MŮŽEME HARMONIZOVAT SRDEČNÍ ČAKRU POMOCÍ JÓGY?
Elementem Anahaty je vzduch - každá práce s dechem pozitivně působí na naše srdeční centrum. Nádí šódhana (střídavý nosní dech) je však jeden, který bych vyzdvihla nejvíce. To, že střídavě dýcháš pravou a levou nosní dírkou, harmonizuje sluneční a měsíční energii v těle, pomocí toho dosáhneš harmonického stavu mysli. Vyzkoušej alespoň 5 cyklů tohoto dechu.
Z jógových pozic doporučuji všechny záklony. Ty otevírají hrudník a ramena a vyváží tak dlouhé hrbení se před počítačem nebo za volantem. Svou jógovou praxi buduj od nejlehčích záklonů, jako je nízká kobra (bhujangasana), přes pozici štěněte (anahatasana) a luku (dhanurasana), až po náročnější záklony, například pozice velblouda (ustrasana) nebo plného mostu (urdhva dhanurasana).
POZOR!
Po každém záklonu dopřej své páteři twist nebo delší neutrální pozici (minimálně 5 dechů), před tím než se přesuneš k předklonovým pozicím.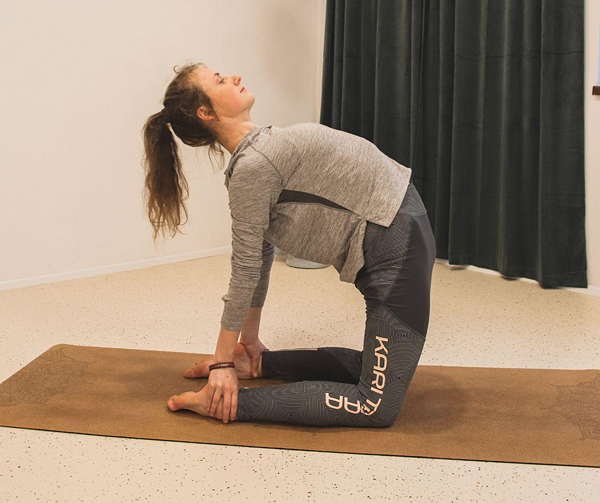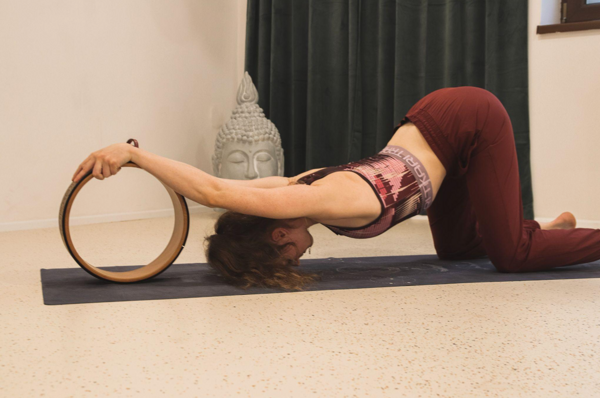 A JAK O SVÉ SRDCE PEČOVAT MIMO PODLOŽKU?
Hledej rovnováhu všude, kde to jde. Všimni si, jestli do svého vztahu se svým tělem dáváš stejnou míru lásky a péče jako dřiny a disciplíny. Pozoruj vztah se svým partnerem a hledej to, v čem se doplňujete a vyvažujete. Zkus ho/jí za to pochválit a ocenit. Uvidíš, jakou tím způsobíš radost!
A v neposlední řadě hledej harmonii i ve svém pracovním životě. Přináší ti tolik užitku, jako ty do ní vložíš úsilí? Podílíš se na výsledku v takové míře, za jaké dostáváš ocenění? Máš ji ráda?
DĚLEJ CO TĚ BAVÍ!
Mít ráda věci, kterým se každodenně věnuješ, do kterých dáváš tolik své energie a času tě totiž může povznášet a zpátky doplňovat životní silou. Stejně jako trávení příjemných chvil ve společnosti svých oblíbených přátel, tě může povznést na duchu a mysli. To je to co chceš. Zkus si vědomě vybírat jak a s kým trávíš svůj čas a všímej si rozdílů ve své náladě. Uvidíš, že pro tebe bude snazší dávat pak svou lásku všude kolem sebe i na těch nejvíc nečekaných místech.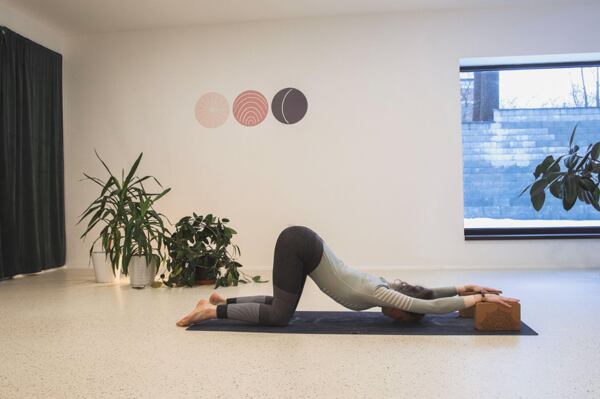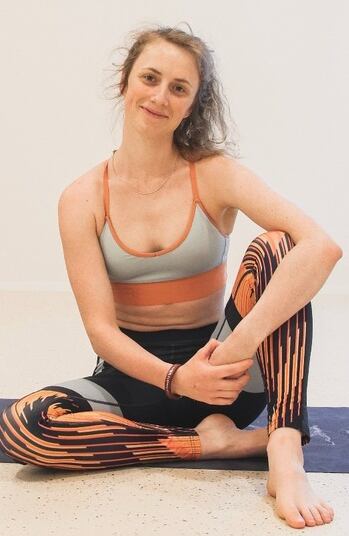 AHOJ JOGÍNI!
Jmenuji se Sára a pokud se ti líbí mé články, můžeš mě sledovat i na Instagramu.
S jógou jsem se seznámila už v dětství, věrně mě provázela celým dospíváním jako kompenzační cvičení. Až jsem si uvědomila, že je to mnohem víc než protahování a cool pozice. Propadla jsem jí natolik, že hned, jak to šlo, jsem se sama stala lektorkou. Neskutečně mě baví ta pestrost jógy, to jak mě učí pokoře, hlavně když si myslím, že už něco konečně vím, ale ona mi tím jen odhalí to, kolik toho ještě ani zdaleka nevím. To co mě na józe nejvíce přitahuje jsou ČAKRY, kterými je inspirovaná většina mých lekcí a o kterých s radosti píšu na blog Yogastore. Pokud máš zájem, ráda tě uvítám i na svých lekcích, více info najdeš zde.
S láskou
Sára Jislová
Autor: Sára Jislová (@sara_jislova)
Zdroje:
· KAVANAGH, Ambi. Pečujte o své čakry. 2020. ISBN 978-80-7593-325-6.
· SHARAMON, Shalila a Bodo J. BAGINSKI. Základní kniha o čakrách. Pragma, 1993. ISBN 80-85213-36-2.
· JUDITH, Anodea a Selene VEGA. The Sevenfold Journey: Reclaiming Mind, Body and Spirit Through the Chakras. 1993. ISBN 0-89594-574-6.
· JUDITH, Anodea. Jóga podle čaker. Praha: Alferia, 2021. ISBN 978-80-271-0793-3.
· JUDITH, Anodea. Wheels of Life. 1987. ISBN 978-08-754-2320-3.