Není lepší start jak začít novou sezónu, než setřásáním zimních pavučin několika pozdravy slunci. Tradice praktikování pozdravů slunci uctívá slunce, náš zdroj života a světla. Je to krásný způsob, jak zahřát tělo, zvýšit tok prány (neboli energie, životní síly) a souznít s přechodem ze zimy do jara – nebo z jakéhokoli jiného období! Pozdravy slunci jsou také známé jako "Surya Namaskar", což v překladu znamená "slunce" (surya) a "klanět se" nebo "zbožňovat" (namaskar).
Jaké pozdravy slunci by se tedy měly cvičit? Naštěstí existuje mnoho variací na tuto starodávnou duchovní tradici. Dnes vám ukážeme sekvenci používanou v tradičních pozdravech slunci v hatha józe.
Pozdrav slunci začíná a končí rukama spojenýma před hrudníkem. To je krásná připomínka, že moudrost se nachází v srdci a jen srdce může znát pravdu. Zkus stát s nohama rovnoběžně a buď s chodidly od sebe, nebo společně.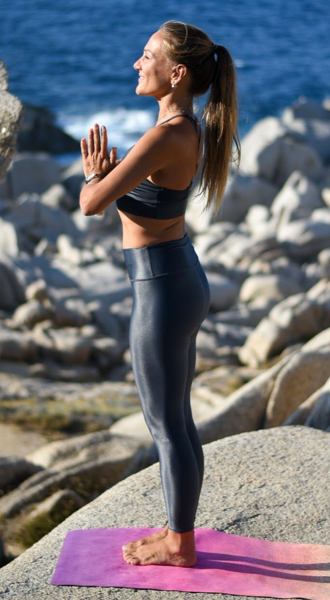 1.) Stoj s rukama spojenýma před srdcem
(Tadasana s Anjali Mudrou)
Zakořeň chodidla do země jako strom. Zpevni stehna, zadek, zapoj břicho. Ramena uvolněná.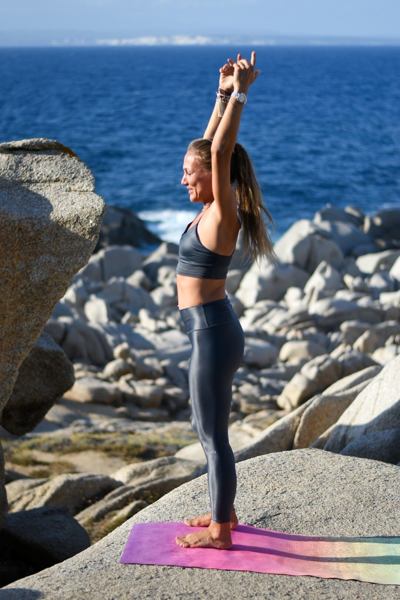 2.) Paže nad hlavou – nádech
(Hasta Uttanasana)
Udržuj ramena uvolněná. Paže vzhůru. Nech své dlaně proti sobě.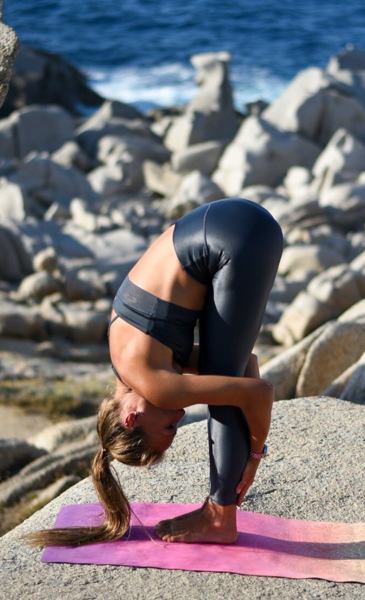 3.) Hluboký předklon – výdech
(Uttanasana)
Kolena lze nechat pokrčená, uvolni horní část těla a vyhni se jakémukoli napětí v oblasti krku.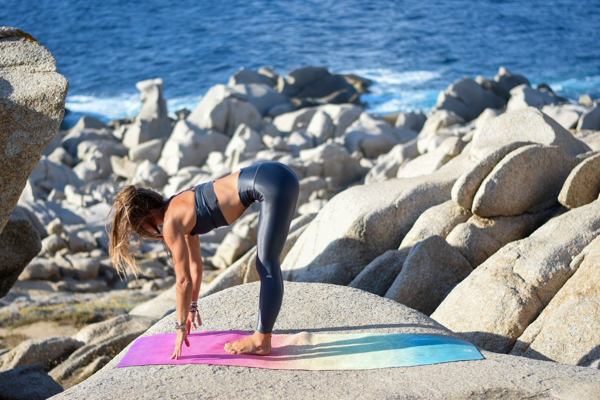 4.) Rovný předklon – nádech
(Uttanasana)
Zvedni hrudník mírně od podložky, drž záda rovnoběžně z podlahou, krk v prodloužení páteře.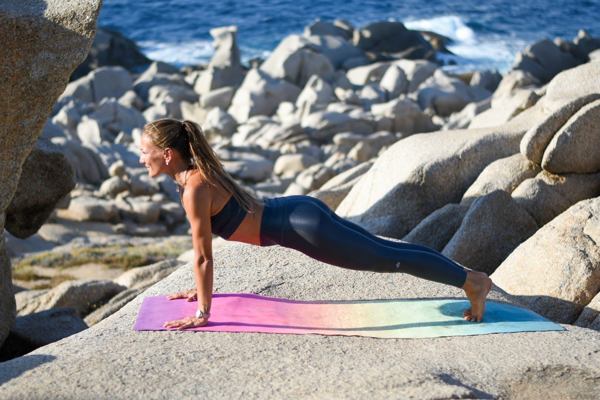 5.) Chaturanga dandasana – výdech
Polož dlaně na podlahu a odkroč nejdřív jedním a pak druhým chodidlem do pozice prkna. Následně pošli těžiště těla směrem dopředu, lokty pokrč, drž u těla a sniž se k zemi. Snažší varianta – položí kolena na podložku.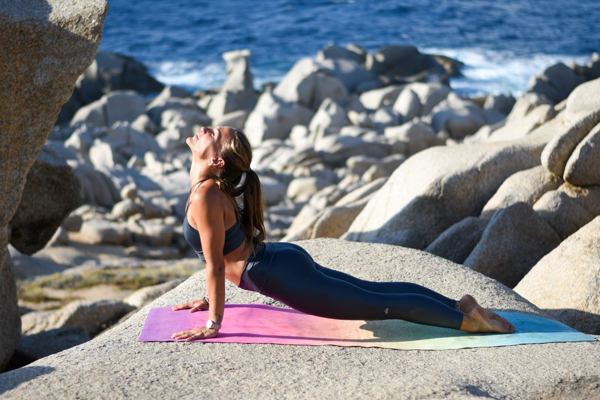 6.) Pes s hlavou nahoru (urdhva mukha svanasana) nebo kobra – lehčí varianta s koleny na zemi (bhujangasana) – nádech
Otevři hrudník, zapoj spodní břicho a stehna. Pohled mírně vzhůru. Prsty od sebe. Nárty se dotýkají země.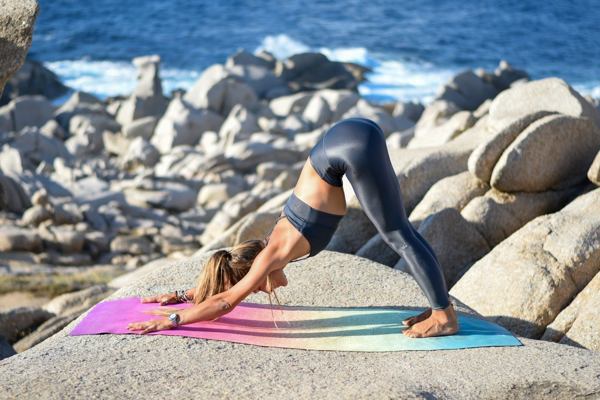 7.) Pes s hlavou dolu – výdech, zůstat na 3 až 5 dechů
(adho mukha svanasana)
Můžeš nechat mírně pokrčená kolena, důležitá je správná pozice páteře, paty směřují k zemi zatažené břicho, ramena roluj směrem ven. Vytvoř prostor mezi lopatkami. Uvolni krk.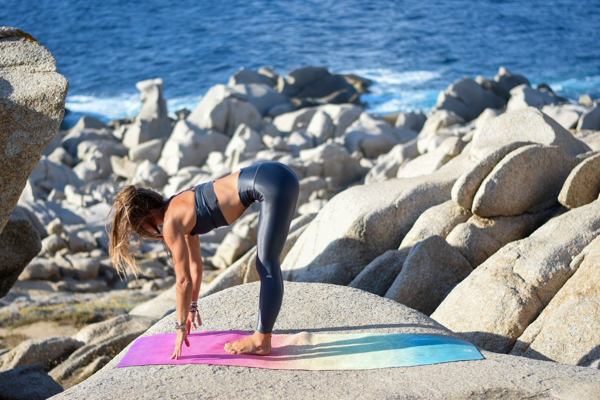 8.) Rovný předklon – nádech
(uttanasana)
Pohled dopředu, pokrč kolena, přikroč mezi dlaně a zvedni opět hrudník mírně od podložky.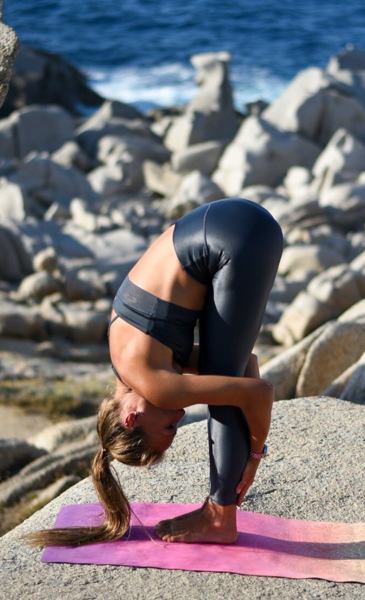 9.) Hluboký předklon – výdech
S výdechem ještě jednou uvolni horní část těla a krk.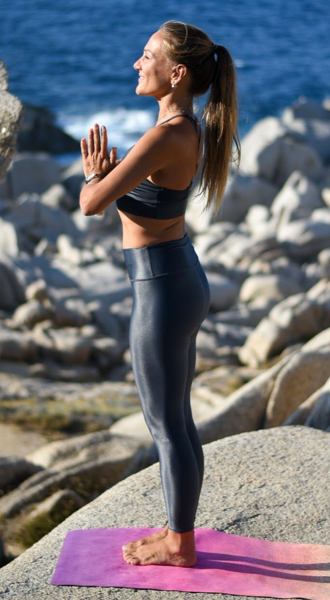 10.) Stoj s rukama spojenyma pred srdcem – nádech
(tadasana)
S pevnými zády a aktivním břichem se vrať zpět do pozice hory.
NAMASTÉ
KRÁSNÝ JARNÍ DEN PŘEJE TÝM YOGASTORE