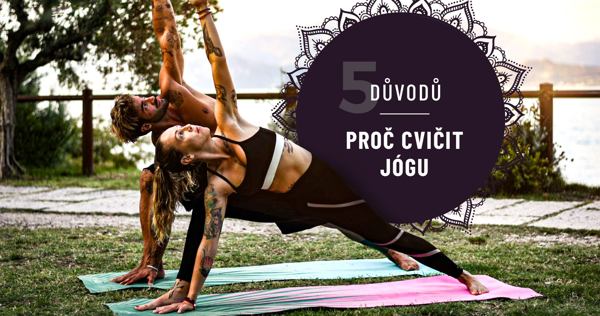 Myslíš si, že jóga není pro tebe?
Jóga není jenom cvičení těla, ale i mysli, proto je její cvičení vhodné téměř pro každého. Mnoho cviků spočívá spíše v protahování a správném břišním dýchání, to je hlavní rozdíl oproti kardio aktivitám, kdy spalujeme tuky a dýcháme víc do hrudníku. To ovšem neznamená, že ti jóga nepomůže s redukcí tělesné hmotnosti. Jóga tě změní nejen na fyzické úrovni, ale i uvnitř. Dá ti vnitřní klid, vhled i nadhled. Je spoustu důvodů, proč si "začít s jógou". My jsme vybrali alespoň těch pár, které by tě mohly přesvědčit.
Proč cvičit jógu?
Díky pravidelnému cvičení jógy tě opustí nepříjemná ztuhlost i bolesti zad, které pramení z ochablých svalů. Posílíš celé tělo a zpevníš střed těla. Tvé tělo i mysl budou víc flexibilní. Snadno se přizpůsobíš životním situacím bez zbytečných emočních výkyvů. Břišní dýchání a ásany masírují i prokrvují orgány. Po těle se ti už po první odcvičené hodině rozlije příjemný uvolňující pocit. Toto fyzické i psychické uvolnění tě bude doprovázet celou tvou jógovou praxí. Zlepší ti kvalitu spánku, schopnost koncentrace a posílí tvou vnitřní sílu.
proč jógu necvičit?
Abychom byli fér, je dobré se podívat i na důvody, proč se do jógy nepouštět. Jóga tě změní. Je možné, že s příchodem jógy tvůj život opustí někteří lidé a některé návyky. Tělo se mnohem víc propojí s myslí, intuice bude silnější a ty budeš jinak reagovat na toxické věci ve svém životě. Přijmeš odpovědnost za své jednání a přestaneš být obětí. V tvé mysli zavládne takový klid, že konečně uslyšíš, co je pro tebe dobré a nebudeš se to bát udělat. Jsi připraven i na tyhle změny?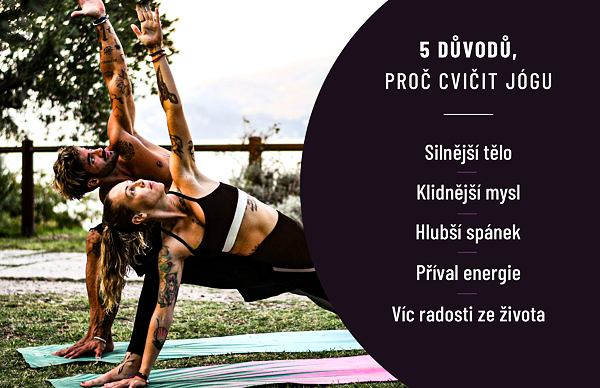 JAK S JÓGOU ZAČÍT?
Máš odhodlání a chuť změnit svůj život? Pak nejlepší cesta, jak začít s jógou, je jít na skupinovou lekci pro začátečníky nebo si vybrat jednu z klidnějších typů jógy, jako je třeba jinjóga nebo hathajóga. Lektoři tě naučí pracovat s dechem, vysvětlí ti jednotlivé ásany a pomohou ti se správnosti provedení. Důležité v józe je nebýt v napětí, v křeči či v nepříjemné poloze. Vše musí jít hladce, kam dosáhneš, tam dosáhneš anebo ásany provedeš s pomocí bloku nebo protahovacího pásku.
Obleč se pohodlně, ale prakticky
Volné triko a ještě volnější kalhoty jsou potom už spíše pro zkušené, ptáš se proč? Protože plandavé triko či kalhoty si často přisedneš, přišlápneš, někde se o ně zachytíš, občas se ti zahákne ruka do kapsy a tak. Ideální je upnuté elastické oblečení, které se ti zároveň při předklonu neshrnuje. Skvělé jsou legíny a triko, pokud máš strach, že ti budou klouzat nohy, existují ideální ponožky na jógu.
JAKOU PODLOŽKU PRO ZAČÁTEK VYBRAT?
Většina studií nebo fitness center, kde se cvičí skupinově půjčuje podložku, takzvaně jógamatku, rádi ti tam půjčí i bloček, někdy nazývaný cihlička nebo další pomůcky.
Standardní tloušťkou podložky je 3,5 mm. V této tloušťce nabízíme oblíbené designové podložky. O chlup silnější jsou podložky ALL YOGA MAT, které mají 4 mm. Oba typy mají speciální protiskluzový povrch. ALL YOGA MAT se pyšní spodní vrstvou ze 100% přírodní gumy a povrchem z eko kůže, která je protiskluzová. Designové jogámatky mají povrch z mikrovlákna, které je opravdu odolné a vydrží nápor každodenní praxe. Pak u nás najdeš podložky z PVC ONE COLOR YOGA MAT, které jsou levnější a o něco méně odolné. Tyto podložky jsou ideální pro začátečníky, kteří se s jógou teprve poznávají, ale už chtějí mít ve studiu i doma svou podložku.
V případě, že tě bolí klouby nebo máš vystouplejší kosti a 3,5 mm je málo, vyber si silnější podložku o tloušťce 4, 5 nebo 6 mm. S tloušťkou podložky zároveň roste její hmotnost. Pokud ale budeš mít jógamatku stabilně na jednom místě, můžeš uvažovat i nad tloušťkou 6 mm, která má hmotnost kolem 2 kg a je ideální pro domácí cvičení. Pozor, na této tloušťce už může být problém udržet balanc.
Pokud jsi světoběžník, určitě tě potěší, že u nás koupíš i tzv. cestovní podložky, které jsou tenké, lehounké a pomohou ti vytvořit tvé osobní meditační místo kdekoli.